ICA BOARD MEMBER RYAN STEELE SELECTED AS NCBA'S YOUNG BEEF LEADER ADVISORY GROUP REGION 5 REPRESENTATIVE
August 8, 2019
Idaho Cattle Association (ICA) Board Member Ryan Steele of Idaho Falls was selected by his industry peers from across the region to serve as NCBA's Young Beef Leader (YBL) Advisory Group Region 5 Representative during the 2019 Cattle Industry Summer Business Meeting held in Denver, CO, July 29th– August 1st, 2019.
---
THAT'S A WRAP! SUMMER ROUND UP 2019 WAS A RECORD SETTING YEAR
July 05, 2019
BOISE (July 5, 2019) The recently concluded Summer Round Up, held in Lewiston, Idaho June 23-25, 2019 was the largest attended mid-year meeting in Idaho Cattle Association's (ICA) recent years, with 254 people in attendance.
---
IDAHO CATTLE ASSOCIATION WELCOMES SHANE KERNER AS MEMBERSHIP COORDINATOR
July 03, 2019
The Idaho Cattle Association is pleased to welcome Shane Kerner who will be serving the association as Membership Coordinator.
---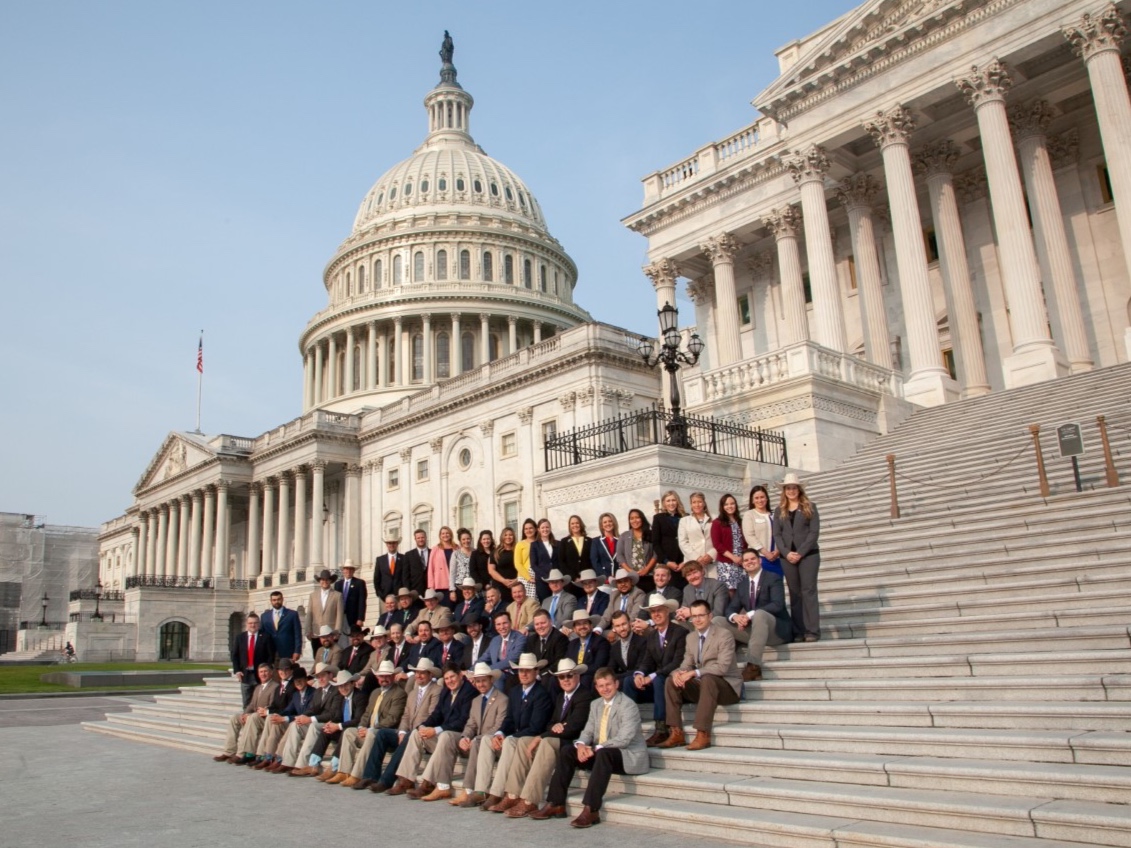 2019 Washington report
May 13, 2019
Every spring, ICA leadership and staff travel to Washington DC to advance the issues of Idaho's cattle industry and inform politicians and bureaucrats alike about the ever-pressing need for legislative reform and regulatory relief. We plan our trip to coincide with the legislative conferences of the Public Lands Council and National Cattlemen's Beef Association in what constitutes a nationwide cattlemen and women fly-in. It is a beautiful thing to see the hallways on Capitol Hill filled with cowboy hats and to hear the echoes from the heels of cowboy boots, rather than loafers, within the marbled hallways.
---
Summer Round Up 2019 Press RElease
May 7, 2019
LEWISTON, Idaho – May 6th, 2019 – The Idaho Cattle Association welcomes Washington Cattlemen's Association as co-hosts for the 2019 Summer Round Up convention in Lewiston, Idaho June 23rd– 25th, 2019 at the Red Lion.
---
Are you interested in being listed in our 2019 resource guide?
May 7, 2019
If you are a current member or non-member who would like to have your ranch or business listed in the 2019 resource guide please fill out the forms attached. This guide is mailed out to 900+ Idaho Cattle Association members and is distributed at many events throughout the year. This digest-sized guide will be easy for cattlemen to access and carry with them to refer to throughout the year.
If you are interested in running a paid advertisement, please contact Jan Ford at (800) 693-8048 or jford17879@aol.com or JoAnn Behrends at (208) 989-5022 or joannbehrends@gmail.com.
ICA Member Listing Information
Non-Member Listing Information
---
Serving our members
May 6, 2019
How your association is doing the job to promote, protect, and preserve the Idaho cattle industry.
---
Young Cattlemen's College - Applications DUE
April 01, 2019
With the beef industry changing so rapidly, identifying and educating leaders to help guide and strengthen the industry has never been so important. Because NCBA serves the grassroots trade association representing the U.S. beef cattle industry, it is our responsibility to see that leadership development is successful. That is why we continue to offer Young Cattlemen's Conference (YCC). The YCC tour has proven to be an effective vehicle in identifying and developing potential leaders. Over 950 cattlemen and women have graduated from the YCC program since its inception in 1980. Many of these alumni participate in committees and councils and even more serve on the board of directors. Several presidents and officers of NCBA and predecessor organizations have also participated in YCC. This program has become and will continue to be the cornerstone of leadership training efforts within the cattle industry. Please see the attachment linked below to find out how you can apply today!
---
John Ruhs as BLM's Idaho State Director
February 27, 2019
On behalf of the Bureau of Land Management's acting Idaho State Director Peter Ditton, we are excited to officially announce the selection of John Ruhs as BLM's Idaho State Director..
---
BLM AND FOREST SERVICE GRAZING FEES LOWERED IN 2019
February 21, 2019
WASHINGTON - The Federal grazing fee for 2019 will drop to $1.35 per animal unit month (AUM) for public lands administered by the Bureau of Land Management and $1.35 per head month (HM) for lands managed by the USDA Forest Service. This represents a decrease from the 2018 Federal grazing fee of $1.41 per AUM.
---
Agriculture, the driving force of civilization
February 10, 2019
We live in an interesting era, to say the least. As I look at the history of our nation and our state and then look at the "issues" we face today, I always challenge myself to remember a well-known saying – "We are in pretty good shape, for the shape we're in!" Continue reading by clicking below.
---
Grazing Applications, Permit Renewals, and Bills Fact Sheet for BLM Idaho Livestock Grazing Permittees
January 30, 2019
---
Supplemental Guidance
January, 2019
Timber operations and grazing permit administration supplemental guidance during the lapse in appropriation.
---
2019 Preferred PLUS Program
December 12, 2018
Enrolling in the program allows your operation to add new buyers to your list of faithful customers, as a number of buyers purchase bulls solely to support ICA. Those involved in the Preferred Plus Program have noticed that buyers are more inclined to place bids on bulls knowing they will receive a discount
---
Grass Futurity 2018
Eliason Livestock represented by Brayden Eliason was this year's Champion, congratulations on a great year! Northwest Hereford Breeders represented by Cameron Mulrony tied for Reserve Champion with Gill Family Ranches represented by Marty Gill. Awards were presented by Tucker Shaw, our current ICA President.
Awards
Our Champion and Reserve Champions took home these beautiful buckles. The top 8 contestants also recieve a cash payout.
1st Eliason Livestock
2nd/3rd Northwest Hereford Breeders & Gill Family Ranches
4th Spiering Land and Cattle
5th Lickley Family
6th Shiner Ranch
7th Jay Smith & Rick Haines
8th Mulkey Ranch
It was overall an exciting year and close contest!
Our Monthly Grass Futurity Winners
Our monthly winners all took home a gift certificate for Cody's Custom Cowboy Hats. The certificate winners will get to customize their hat at this year's Annual Convention. June's winner was Eliason Livestock, July's was Shaw Cattle Company, August's was the Mulkey Ranch, and September's was Eliason Livestock for the second time. Congratulations on your new custom hats and big wins!
"Five Year" Grass Futurity Awards
At the completion of 2017, we had several individuals and companies who had donated a steer to the competition from the very beginning, making the completion of the 2017 Grass Futurity year their fifth year. In appreciation, we awarded five year awards to Bill & Ryan Lickley, Brent Eaton, L.G. Davison, Treasure Valley Livestock, Jared Brackett, Carl Lufkin, Tony Bott, and Randy Landcaster. They took home some awesome Cordova coolers, which are manufactured right here in Idaho!
Sponsor & Contestant Appreciation
As a special thanks, all contestants and sponsors were awarded garment bags as a token of our appreciation for all they have done! A special thanks to Zoetis, Allflex, Bayer, Merck, Boehringer Ingelheim, University of Idaho, and KeyAg.